We may receive a commission when you make a purchase from one of our links for products and services we recommend. As an Amazon Associate we earn from qualifying purchases. Thank you for support!
I've been smitten with the idea of having my own writer's studio, the weather here is beautiful, and of course this led me to researching a number of backyard shed ideas to find the elusive perfect writer's studio.
There's just one problem: I am a writer, not a master carpenter! The thought of trying to come up with shed plans and building something made my idea for a writing studio seem like an impossible dream. Fortunately, I was very happily surprised to learn it IS possible to build your own writing studio – no special skills required!
If you would like to learn how to build your own writing studio easily AND affordably, hopefully this will help inspire you to create a writing space you absolutely love.
Here's How You Can Build Your Own Writing Studio: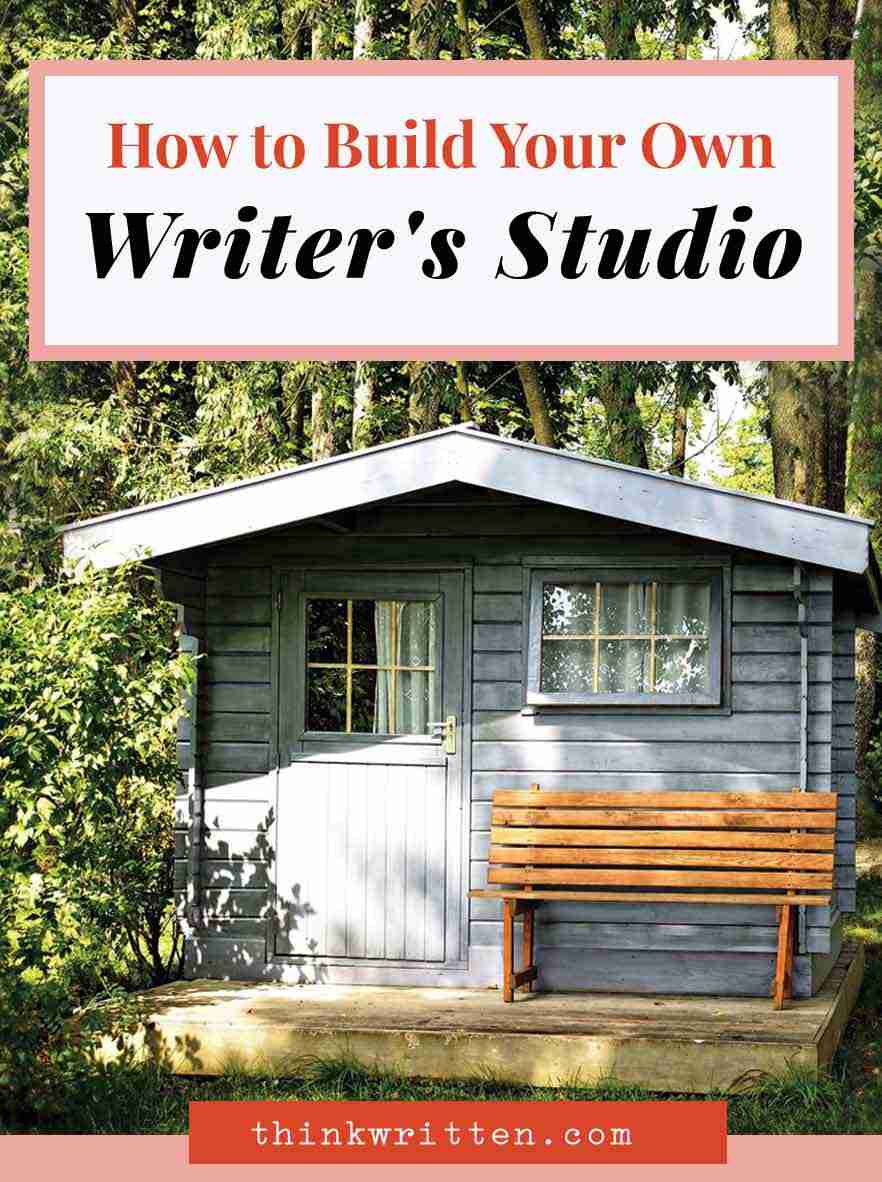 Step 1: Decide Where You Will Build Your Studio
This is an easy first step, but a very important one. You will want to make sure that you know where you will put the shed so that you know what size is going to work. If you have a tiny yard, a giant 30′ shed is not going to work!
You will also want to make sure the space is mostly level. The more level the spot is, the less prep work will be necessary.
Another thing to consider is whether you will need electricity inside your shed. It is not absolutely necessary of course, but you may want to make sure that your shed is close enough to a power source that you can at the very least run an extension cord if you would need one.
You can also explore potentially hardwiring the shed with electricity – this is easy enough for many electricians to do affordably.
Step 2: Find Out if You Will Need a Permit
Depending on where you live, you may need a permit or your shed may need to have certain specifications. For example, if you live in a housing development with HOA laws, you will want to make sure you do not get fined by your Homeowner's association.
Many areas do not require a permit for a shed, but some municipalities do. In this case, it is very important to ensure that you have all the necessary permits and that whatever type of structure you build will meet all the proper zoning requirements.
Step 3: Order a Shed Kit That Makes Installation a Breeze
Today it is amazing that you literally can order a shed kit from Amazon and have it shipped to your house in a few weeks! Getting a shed kit saves on so much time and frustration. Assembly instructions and panels makes it easy to install.
If you are not up for the venture of building your own studio of course however you can always hire someone to do the work for you. A few hungry college kids or a local handyman will likely be able to assemble the shed for you within just a few days and for a reasonable price.
Or, if you're lucky like me, maybe you have a nice teenage son and husband you can bribe into building it for you! Don't forget Mother's day IS this weekend! Or, if you're a Dad – June is not so far off either!
Not a parent? Maybe you have a birthday coming up? Bribing someone who loves you to help with the assembly process is a good option too!
Step 4: Prepare the Site & Start Building!
You may wish to get the area ready for where you are building the shed in advance. For example, you'll want to make sure it is mostly level and clear.
To start building the kit, it is helpful to watch installation videos ahead of time if possible. The company you decide to buy a kit from will likely have very detailed instructions to help you assemble your writers studio easily and with the least amount of frustration as possible.
Step 5: Add Your Finishing Touches, Furniture and Enjoy!
Once the shed assembly is completed, you are ready for the fun part: decorating the space! You may need to paint the outside and inside of your shed depending on what type of kit you purchase. Some come pre-painted, but others will need a final top coat with exterior grade paint or stain.
You can then move in any type of furniture and decorations you might like for your writing space! For example, you may want a desk and a bookshelf or a big cozy chair to relax in.
---
So, now that we've gone over how easy it is to build a writing studio, what kind of backyard shed do you think you might like? I stumbled across these 5 beautiful sheds I just absolutely adore, and wanted to share them too in case you might be thinking about building your own space to use for writing or art or maybe just getting away from it all!
Here are 5 Beautiful Shed Kits You Will Love:
Note: Be sure that if you decide to order one of these that you schedule the delivery time for a time you will be home, as most of these will require a signature at delivery due to the large size!
[sc name="disclosure"]

There is a lot to love about this shed, which is the Colonial Willamsburg Shed kit from the Little Cottage Company. I love the windows detail, and especially like how the top of the barn style doors can allow in plenty of natural light. This would definitely make for a great place to create and write!
---
This large shed kit from Best Barns is called the New Castle and measures 12 feet x 16 feet in size. Prebuilt doors and other features make it easy to build yourself. The siding is primed with a 50 year warranty, ensuring this shed will last you a very long time! Three windows offer plenty of opportunity for natural sunlight inside.
---
The Oakridge 8 x 12 wooden shed features window panels in the top of the door, making it a good source of natural light. It also has a window on the side. 6′ tall size walls give you plenty of height and a 56″ wide door opening means it is possible for you to use it for a number of possibilities.
---

This 10 x 10 Northwood shed kit from Best Barns is small enough to work in a number of different yards, but still offers a decent amount of space. The upstairs storage loft is a nice touch also, making it perfect to use for a number of different things to keep you organized AND creative! I especially love the windows to be able to let in a lot of natural light while writing!
---
This Pinehurst shed by the Little Cottage Company is beautiful and the best part is that it is available in a lot of different sizes! The largest available shed is 12′ x 24′, and the smallest available shed is 8′ x 8′. The panelized walls make for quick and easy assembly, and it is made of high quality materials to ensure lasting durability.
---
This is another Little Cottage Company shed that would make for a great writer's studio! The height of the doors measures 72″, which is perfect for most adults. It is 10′ by 10′, giving you ample space to use as your office. The unique corner design of this shed makes it a pretty creative space to use as your studio for work or for relaxing!
---
Are You Thinking of Building a Writer's Studio?
Building a writing studio can seem like a big project, but fortunately with the help of so many DIY shed kits that use pre-cut panels, it's easier than ever to build your very own shed at home and convert it into an office or special space you go to relax and unwind after a long day.
I hope you find this inspiring, and of course if you have built a writer's studio, I would LOVE to hear your thoughts on the whole experience!
Which of these sheds do you think you like the best? Which of these can you imagine being the perfect outdoor writing studio for you? I'd love to hear your thoughts in the comments below!
[sc name="Amazon Disclaimer"]