Even the most well-disciplined writer can struggle with motivation to finish a story or writing assignment. If you've ever found yourself struggling to keep writing after you start a project, we've put together a list of 10 ways to motivate yourself to write.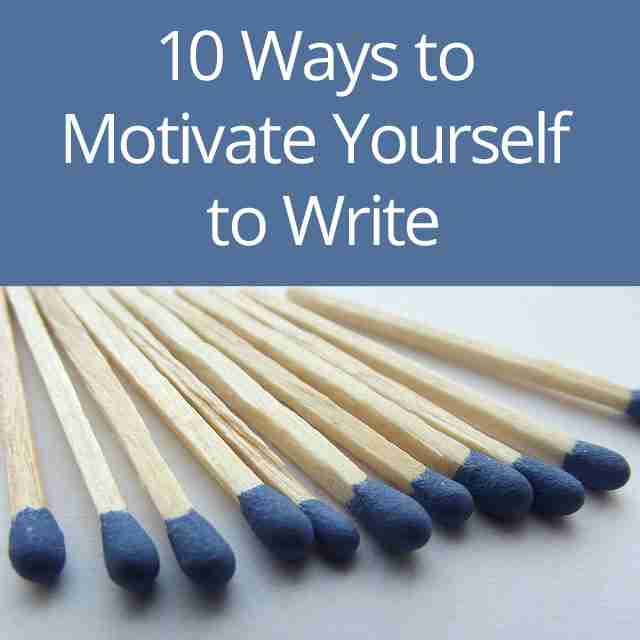 Here are our favorite ways to stay motivated to write:
1. Meet with a writing friend. Having a friend you meet with regularly to talk about writing can help you stay motivated, because you'll want to make sure you have some new material for when you meet.
2. Join a Writing Group: Check sites like Craigslist or Meetup to see if there are any writing groups near you to meet with. This again can help fuel your motivation to write, as you'll want to have something new to present to the group.
3. Set a timer. Start small by setting a timer for 5 or 10 minutes to write, working up to 30 minutes or more. When you have a timer set, this helps you break it down into small increments of time instead of thinking you need to do the entire project in one sitting.
4. Set a goal – ie: To Write X amount of pages or X number of words. Having a goal and deadline can help you write more efficiently, especially when you are working on a long project. Again, this helps break your project into more manageable sections.
5. Reward Yourself: The rewards don't have to be big, but do something to pat yourself on the back when you meet a writing goal or deadline. Maybe you'll treat yourself to a new book, a cup of your favorite coffee, give yourself some time to browse the internet and read your favorite blogs, or do something else you enjoy.
6. Create Visual Aids: A motivational poster sounds cheesy, but surprisingly it can help you to have many visual aids while writing that can keep you motivated. For example, you can create a vision board of what you'll do when you finish your writing project at your desk or keep a picture of a place you want to travel to after you finish writing. You can also hang up inspiring words or other visual aids at your desk that can remind you to keep writing.
7. Shut Off the Inner Critic: It's so easy to be critical of what we write while writing. Turn off your inner critic and remember the revising and editing comes later – just write for now. It doesn't have to be perfect when writing your first draft.
8. Minimize Distractions: Something I do once in awhile is completely disconnect the internet so it's just me and the laptop for typing. It's easy to want to check your favorite blogs, get caught up in research for what you're writing or to check in on your social networks. By turning off these distractions, it will be much easier for you to actually finish writing. Use the internet as a reward for when you have completed the writing goal for the day.
9. Don't Beat Yourself Up: Guilt can be a big problem with writers. Maybe you went a few days without writing and now you feel like you should just give up entirely. It's common to have a few slumps as a writer – the important thing is you don't give up and let that stop you from starting again.
10. Get Excited: Remember the excitement you felt when you first started the project? It's time to get fired up again and feel that same excitement! Listen to some of your favorite songs that motivate you, review your outline, and remember that writing is a passion. The more excited you are about the project, the easier the writing will happen.
---
What do you do when you don't feel motivated to write? Share your favorite tips and techniques in the comments section below!