The biggest challenge for most poets is finding a way to make an income doing the thing they love. Let's be realistic: most publishers are not begging for poetry submissions. Poetry, as much as it is loved and revered, simply is difficult to make money from.
However, thanks to many different internet opportunities, there are ways to make money online from your poetry. In this post, we'll share some unusual yet very real methods of making money online from writing poetry.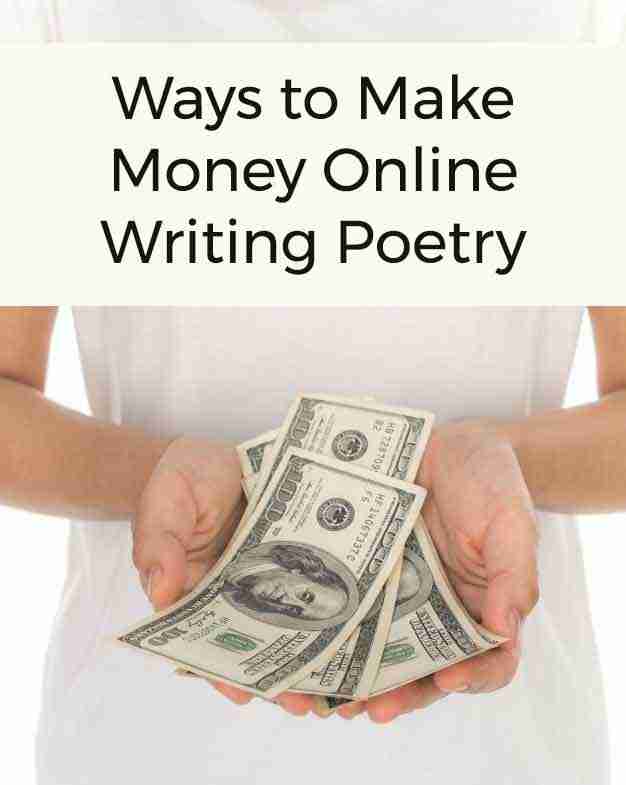 Here are a few example ways to make money online writing poetry:
Note: Sadly since this article was published, several of the websites which paid for poetry submissions are no longer around. Fortunately, many of these options are still available! We will continue to seek out different ways to make money publishing poetry online and update this list as we discover them.
Idea #1: Post a Listing to Fiverr:
Fiverr is a website where people can hire you to do a task for $5. You can create a listing offering to write a custom poem for $5. Be sure to include some images and examples in your listing. This can be a great way to offer an inexpensive poetry writing service for people who may want to gift a poem to a loved one for special occasions, such as Valentine's Day, birthdays, and anniversaries.
Idea #2: Create a Website of Your Poems:
Having your own website of poetry is another method of making money online. I did this a few years ago and earned about $75/month from people reading a couple of my poems and clicking on advertisements. While this may not seem like much, this can really add up over time – especially as you build up traffic to your website and create a following.
It takes a little bit of learning on how to set up a website and how to get traffic and advertisers, but this is a very viable option to do something you love while earning some side cash.
Idea #3: Sell On-Demand Items With Your Poetry:
Sites like Printful make it possible for you upload images to sell on items like poster prints, coffee mugs, t-shirts, and more. While you will need some sort of photo editing program to do this, you can turn your poems into items for sale.
Poems on items such as these can be a great way to not only create more awareness about your work, but can make for unique gift ideas for others, especially if you focus on creating poems suitable for special occasions such as Mother's Day, Anniversaries, and Birthdays.
Idea # 4: Sell Poems on Etsy:
Etsy is a store of everything handmade. You can create prints of your poems on paper in a frame or on a canvas and sell that way. If you liked the idea of creating print-on-demand products, Etsy can also be integrated with websites such as Printful, making your start up costs very minimal.
In addition to selling your print on demand poetry items on Etsy, you could also explore other possible handmade products, such as selling your own greeting cards. You can also offer custom poetry writing services, or even an eBook of your poems you have written. With the right marketing, this can be a good way to get your poems in the hands of others while getting paid for your work. A simple search on Etsy for "poem" and "poetry" and you will get some great ideas for ways to sell your unique poems there!
Update January 2018: This article has been updated to remove several formerly listing websites which paid authors for unique poems. Sadly, there are less and less reputable websites willing to pay writers online for their unique poems. Popular websites such as Associated Content, Gather, and Triond no longer exist, as several of these have merged with other content writing platforms.
---
Do you have some ideas for ways poets can make money online writing poetry? Share your thoughts in the comments section below!