We may receive a commission when you make a purchase from one of our links for products and services we recommend. As an Amazon Associate we earn from qualifying purchases. Thank you for support!
Publishing a book may seem mysterious, but it's actually quite straightforward. Here we'll go over the 7 steps of publishing your book and how to decide which publishing method is best for you.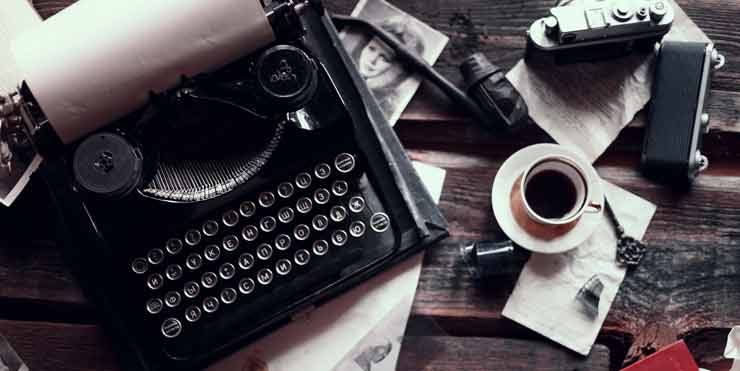 Today's writers have more choices than ever when it comes to publishing, especially with the popularity of print-on-demand and self publishing services. Whether you wrote a novel, non-fiction book or chapbook of poetry, it's important to know your options.
When you understand the way the publishing industry works as a whole, and the many different factors that influence whether a book will be successful, it will be easier for you to make a decision that meets your writing goals.
Having a basic overview of the process will help you decide which publishing method is best for you. Whether you wrote a novel, a non-fiction book, or even have a collection of essays or poems, there are a lot of great options to help you get your book in print.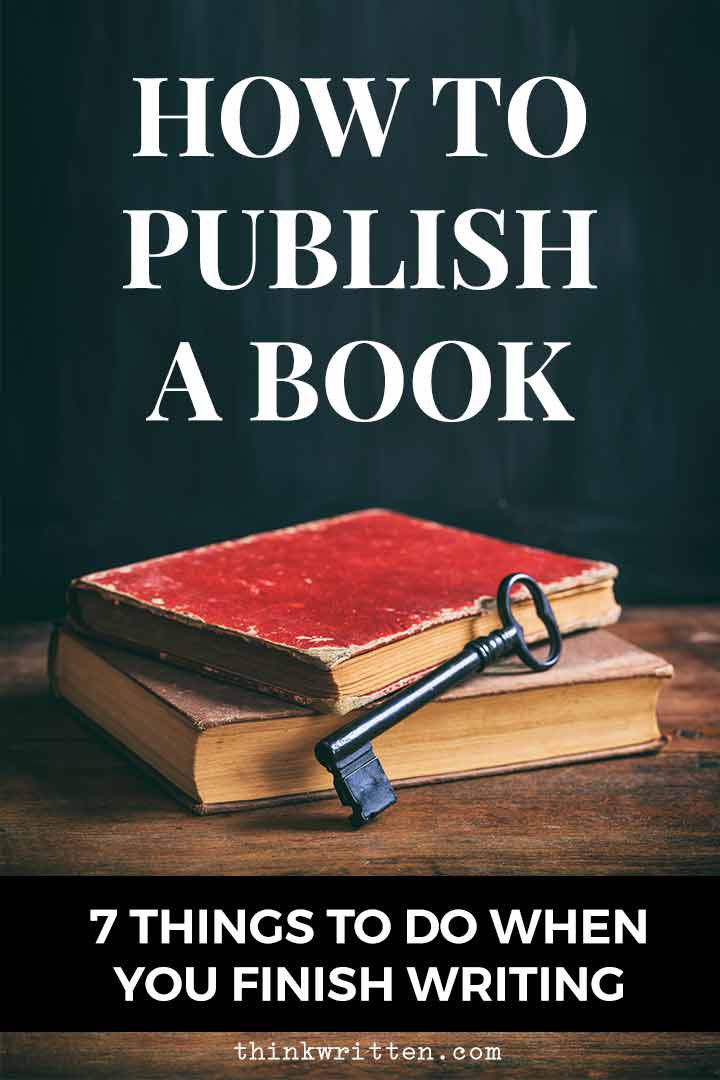 How to Publish Your Book
Step 1: Write, Edit, and Proofread Your Book
If you are seriously considering publishing a book, then you of course likely already have a book already prepared. However, just because you finished writing that novel in a few days doesn't necessarily mean it's really ready to be published. It is very important before you take the next steps that you have made the book as best as you can.
You want to make sure your book is truly ready to be published before you share it with the world. This is important whether you plan to self publish or submit for traditional publishing.
If writing fiction, this means you should have a strong novel plot, clear dialogue between characters, and of course you have followed all of the basic guidelines for editing and revising your novel.
While it is possible to submit a query and a book proposal to a publisher for non-fiction books before the book is written, you will be much more confident in your querying if you know the book is already mostly complete.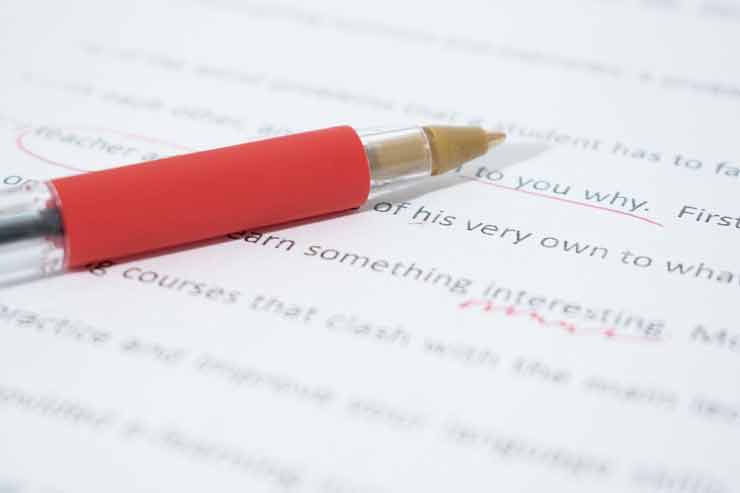 There are services which you can hire for editing, proofreading and critique. If you do employ any of these services, be sure you are paying a fair rate and are not being taken advantage of. Sadly, many people out there prey on the hopeless author who wants to be published.
Check for references and always ask for sample work. Always do your own due diligence whenever possible to verify information is accurate.
Being part of a local writing group can offer you a lot of valuable insight on your work, and you can often network to find a qualified editor who can help proofread and critique your work.
Be very wary of asking family and friends for opinions, this can have disastrous results. Friends and family will always inevitably have bias towards you. Your friends and family, unless they are published authors themselves, are also very unlikely to possess the industry experience necessary to give you any valuable feedback.
---
Step 2: Research the Right Publisher for Your Book
No two publishers are exactly alike, so it's important to spend some time researching which publishers make a good fit for your book.
There are two main methods of publishing:
Traditional Publishing: This is when you submit your work to a large publisher who publishes the book on your behalf. Examples of well-known publishers are HarperCollins, Penguin Random House, and Macmillan.
Self Publishing: In self publishing, YOU are the publisher. You are in charge of every aspect of the book, including the printing and fulfillment of orders. Fortunately today it's easier than ever through services such as Amazon's Kindle Direct.
Each of these has pros and cons. We will talk more about how to decide which one is right for you at the bottom of this post. While the two methods of publishing are very, very different, the process for publishing a book still remains for the most part the same.
To quote a talk given by Ted Weinstein: All publishing is self-publishing.
If you know you want to self-publish, you're ready to move onto Step 3. However, if you are considering learning how to publish your book with a major publisher, then you should use this step to also consider whether or not you might need an agent.
---
What is a Literary Agent? Do I Need One?
An agent is a person who negotiates on your behalf to get your book into the major leagues. In many ways, it is no different than having an agent if you are a baseball player or an actress. If you want to get in with the major leagues as a writer, it takes a major amount of time and effort to get there.
An agent does all of the hard work of building a network, staying on top of industry trends, and understanding things like rights management contracts. While an agent won't eliminate all of the work you have to do in publishing and marketing your book, it can be a huge help.
Do you need an agent? It greatly depends on which publishers you believe are the best fit for your work. If you are set on striking a deal with large publishing companies, you will need to have an agent first. The top 5 major publishing houses generally only accept book proposals and manuscript submissions from agents.
Most agents will charge a flat rate of 15% of book sales, and are only going to work with you if your book has enough market demand to sell over 20,000 copies. An agent can be very helpful if your goal is to sell millions of books, but unless your book has that kind of market demand, it may not always be the best interest for your bottom line.
There are also many mid-sized and smaller publishers who accept manuscript submissions without an agent. These smaller publishers may be a better fit for your work, especially if your book caters to a very specific niche market and there is not much profit potential for an agent to take interest in your work.
When hiring a literary agent and researching publishers, it is important that you do your homework to make sure the people you choose to work with are reputable.
You want to make sure the agent you work with is truly going to offer the best representation of your work. You also want to make sure the publisher you choose is one who supports your goals as a writer to create a win-win situation for all parties involved.
Be sure that you don't make the mistake of venturing into vanity publisher territory. These types of publishers are predatory on authors and do not care whether your book ever sells a single copy.
Vanity publishers such as this often will claim all of the rights to your book, but they don't make any money from selling copies of the book itself. They instead make their money from the "contribution fee" they charge authors and selling copies of the book back to the author.
One such example of a vanity publisher is the now out-of-business Vantage Press, which was court ordered to pay over 3.5 million in damages to authors.  Many of these companies go out of business relatively quickly, but they can do long term damage to authors and their reputation.
Don't let this scare you however – there are many great publishers out there! If you take the time to research a company and what authors are saying, you will be likely to find a good fit for your book.
Here are some questions to ask when seeking an agent and/or publisher:
What is their publishing experience?
What notable authors have they published?
Are the books they've published distributed in large national chain bookstores and retailers?
Is my book a good match for the styles of books they offer?
Ultimately, the publisher and/or literary agent you choose will depend on your goals as a writer and the type of books you are writing. And of course, don't forget YOU can always be your own publisher!
---
Step 3: Write Your Query Letter
A query letter is what you send to publishers or agents to convince them to request more of your work. Most publishers and agents require a query letter before you send them a full manuscript or book proposal.
If you are self publishing, you might think to yourself you don't need a query letter, but I suggest you write one anyway. It will help prepare you to easily talk about your book with others.
Writing query letters can be an eye opening and fun experience even if you have no intentions of getting an agent or traditional publishing. It gives you a good idea of how ready you might be to seriously publish a book.
A good query letter should have these main qualities:
It builds rapport and interest. Your goal of the first line of the letter should be to make the agent or editor want to read the full letter in its entirety.
It clearly explains what your book is about quickly. It should take no more than one sentence to understand what your book is about.
It explains the commercial viability of your book. There are people who will pay money to read it.
It explains your own experience as a writer. If you already have your own author website with a following, this is good to mention.
It also helps to have someone double check your query letter before you send it for grammar errors and typos. Most agents and editors recommend you send this digitally, but always check their requirements they list on their submissions page on their website, as a few select groups still require mailed in letters.
No matter how tempting it may be, you should NEVER send a full manuscript or book proposal until it formally requested in response to your query letter.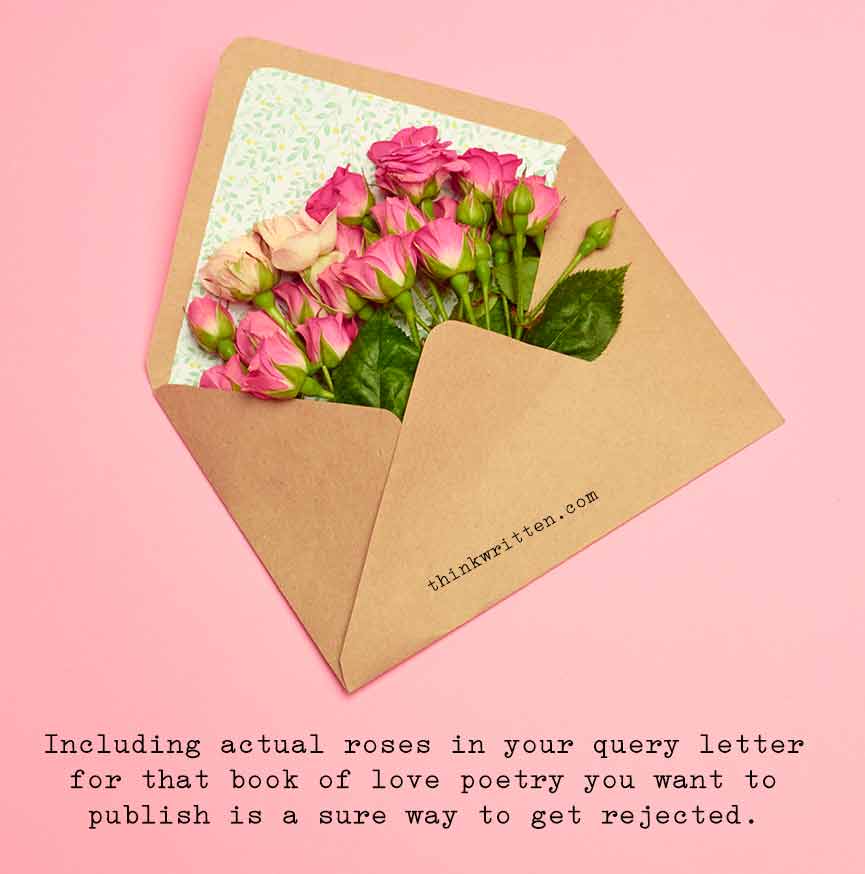 You should also NOT try to bribe the editor or agent. Roses are nice, but they are also a fast way to get your book rejected.
Step 4: Send your Manuscript/Write a Book Proposal
If you get confirmation from an agent or publisher that they would like to read your manuscript or book proposal, you are ready to send it to them to review.
The amount of time this process can take varies. It can take weeks or months before you hear any sort of response on the manuscript.
Of course,  this can be antagonizing. Try to be patient as possible, and accept that you may not get any response at all. Be prepared to face rejection, but don't let that discourage you.
If you are sending a book after a successful query letter, be sure to follow all of their requirements and instructions for manuscript submission guidelines. This is not the time to be cute or creative – this is a time to show your ability to be professional.
If you are writing non-fiction or self-publishing, your step in this stage will be a little bit different. For non-fiction, you will typically not submit a full out manuscript, but rather a book proposal.
A book proposal is much like a business plan, and I believe every writer should write one, even if it's not required by the publisher and especially if you intend to self publish. When you write a book proposal, you outline some very important things, such as who the target market is for your book and how you will reach them.
---
Step 5: Negotiate and Accept a Contract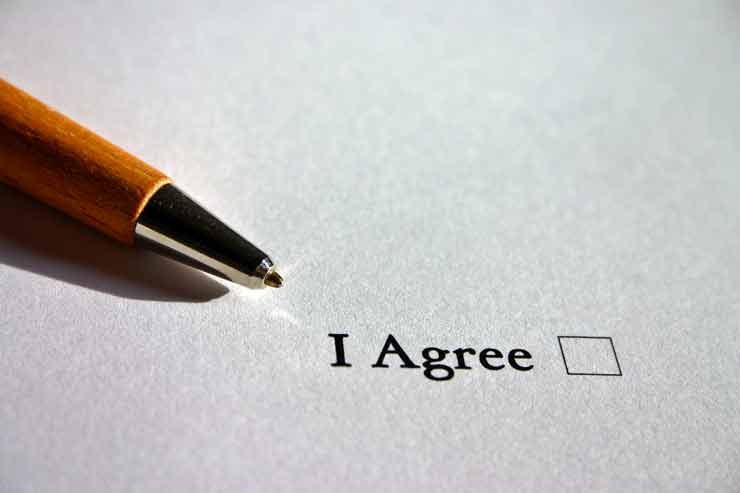 Once you hear the good news your book has been accepted, you will likely be presented with a contract. This is where having an experienced agent on your side can be very beneficial. Many agents will often work on your behalf to ensure your rights are protected in a way that is a mutual win-win situation for all parties involved.
In traditional publishing, once your book is accepted for submission you will be presented with a contract that will outline your publishing rights and the royalties you will receive. It is recommended that you have an agent or lawyer review the contract to ensure your rights are protected and to prevent any misunderstandings later down the road.
Even if you are self-publishing, you will need to practice your negotiation skills at this point. This is the point where you will likely need to hire someone to take care of details such as cover design, eBook formatting, print typesetting, and more. You may also need to hire a web developer.
If self-publishing, always be sure to check references and reviews for people who offer services. Make sure you see examples of what they do as well. It can be very discouraging to hire someone to do something and then they disappear, leaving you scrambling.
Anyone who is worth working with will require a contract which specifically outlines their responsibilities and rights in the process of getting your book to print and setting up your author website if you don't already have one.
---
Step 6: The Ready-Set-Print Review Process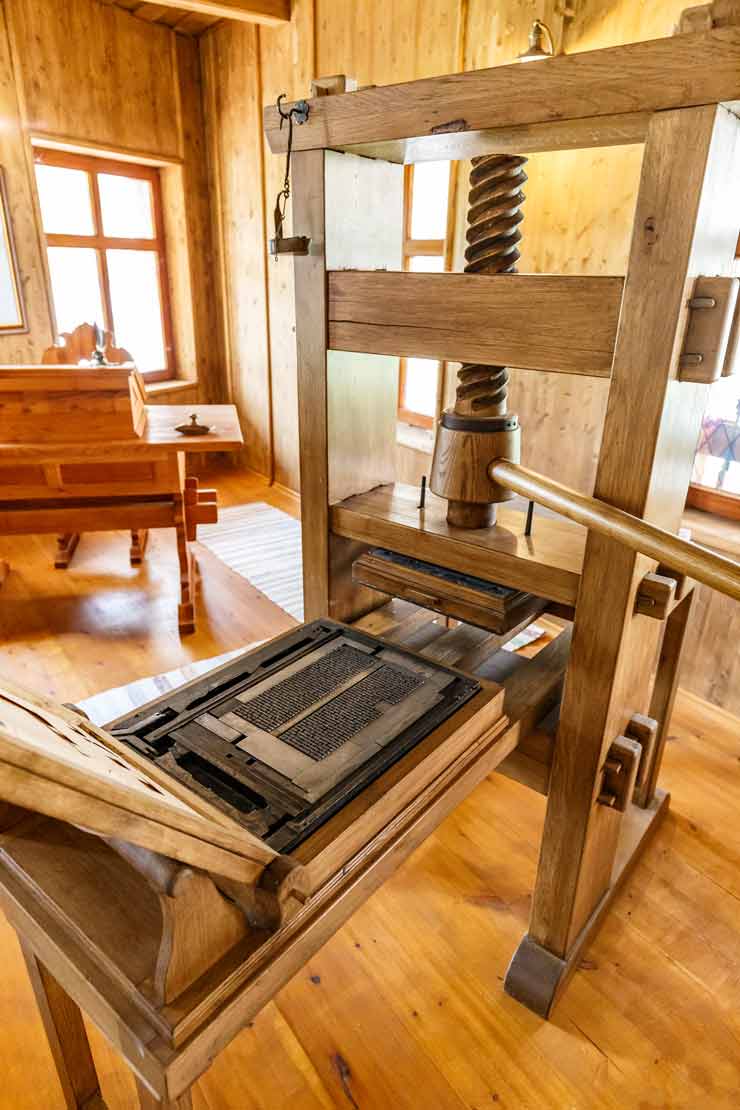 We're getting closer to having an actual book in our hands than ever! I call this the "Ready-Set-Print" time, because you are basically going to be doing a lot of work in getting your book ready to be printed.
This process will greatly depend on which publisher you are working with and the type of book you have written. In this step we will be doing all of the things that are necessary to put a book on a shelf.
It is during this time when artwork will be finalized, all editing and proofreading will be done, and all necessary formatting will be completed.
If you are working with a traditional publisher, it is a long and tedious time to wait, and can take several months. If you are self-publishing, you may need to order several proof copies before you finally get it just right.
Fortunately, during this time you can begin to develop and execute your marketing plan for your book if you have not already. Begin by making a checklist of actions to do before the big book launch to ensure the day it is released will be a success.
Now is a good time to get your website ready, start your author email marketing and further build your online presence through social media sites like Pinterest while you await for the final proof copy.
Step 7: Publish and Market Your Book!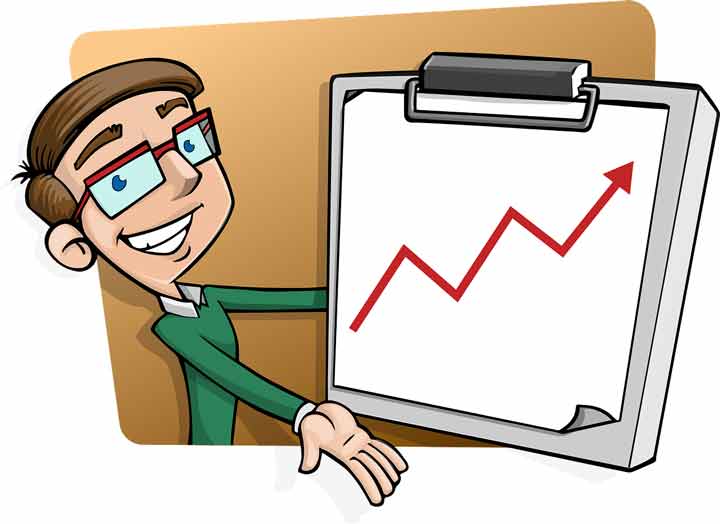 Once everything is finalized, your book will be ready to be published at full scale and available to sell to people. You should already have a marketing plan in place to maximize sales and to reach your audience. Celebrate the launch of your book with a launch party, go to book tours, and start spreading the word.
You may choose to hire a publicist or marketing agency to help you reach your goals if it is something you prefer to not do yourself, though this may require a large upfront sum that could ultimately cut into your bottom line.
Publishing a book through a traditional publishing house can seem like a daunting task and an overwhelming process. However, it is still a very good option to consider, even when self publishing is so readily available in today's digital age.
---
Traditional Publishing Vs. Self Publishing
In today's digital age, self publishing is a popular option. It's easier than ever to write your book, upload to a platform such as Amazon's Kindle Direct and have a book on the marketplace, in both digital and physical formats in less than a few weeks.
Self publishing is especially enticing if you just want your book out in the world quickly. One of the major caveats of traditional publishing methods is that it can take a considerably longer time to go through the process from manuscript to finished physical copy of the book in your hand.
The lengthy process is enough to turn many authors away from these methods all together, even if they did write something great that would be a good fit to successfully query and submit to publishers.
Book Publishing Profits: Which One Makes the Most Sense?
Many people, once learning how little they receive in royalties from a traditional publisher ask, "Why would I even bother submitting my query letter and manuscript to agencies or publishers?"
It's not a totally out of place question. After all, if the agent is taking a 15% cut, and the publishing house takes their cut, that doesn't leave much margin for profit. It begins to look even more dismal when you realize most books retail for less than $14.
The key to remember with book sales through large publishing houses it is largely a numbers game. If you sell 20,000 copies with a major publisher, and only see maybe $1 of profit per book sold, that's still $20,000.
On the other hand, if you only sell 2,000 self published copies, even if you do see $4 in profit per copy sold, you will only have made $8,000.
There is no right answer of course, and many books may only sell 2,000 copies even if they are sold with a traditional publishing house. Again, much of it comes down to you, the author, and the amount of leg work you are willing to do for marketing and sales.
For many self-published authors, it becomes a quest to crank out as many books as possible, in order to maximize a return. If you are self publishing 6 books every single year, this makes it a lot easier to see a decent return in profit compared to someone who writes only one book every six years.
The Reason Traditional Publishing Houses Still Exist
Self publishing may seem easier, but there are still very good reasons to go the traditional route of publishing.
For starters, being picked up by one of the top major publishing houses will make it much easier for you to get distribution in book stores.
If your goal is to make it Oprah's reading list, it's probably a good idea to aim big and start submitting queries to agents to have a chance to get a publishing deal with a mid-sized publishing company.
And of course, it's important to know that there is also a new hybrid model emerging. Many popular writers begin with self-published work which garners enough attention that major publishing houses become very interested in working with you, especially since you are an established author.
If you see enough success on your own with self published work, publishers may be willing to take on the risk for any of your current or future books.
You Can Make a Living Writing, But Selling Books Doesn't Have to Be Your End Goal
There are many ways of making money as a writer. While selling books seems like an obvious method, it is not always the quickest or even most profitable method to supporting your financial goals.
For example, we all know that poetry is notoriously difficult to get published. Most agents and publishing houses don't even want to touch it. Still, despite this there are many viable ways to make money with poetry, even if you never publish a single poem in a traditional book.
Another option to consider is to take on speaking gigs and teaching workshops, especially if your work is in the non-fiction genre. Speaking gigs and workshops can result in a very lucrative pay and require just a short amount of time.
Some speaking events, depending on the venue, will pay you up to $5,000 plus travel expenses simply to offer a day long presentation to a large audience. Workshops are another interesting option to explore, especially if you offer instruction on a topic.
And of course, there is also always freelance writing to pay the bills. While it may not be as glamorous to write informative styles of articles compared to a major book deal, it can be nice to have the flexibility to write on a broad range of subjects with relatively little commitment.
---
Do you have any questions about the publishing process? Do you have any experiences you would like to share? Your comments are always welcomed in the comments section below!