We may receive a commission when you make a purchase from one of our links for products and services we recommend. As an Amazon Associate we earn from qualifying purchases. Thank you for support!
I know a lot of people who should write memoirs. Actually, every person I know has an interesting story to share about some experience in their life at some point or another.
Yet, so many of these people will never write down their story or share with the world the experience they went through.
If you're doubting whether you should write a book about your own personal experiences through life, here are 7 reasons to write your memoir: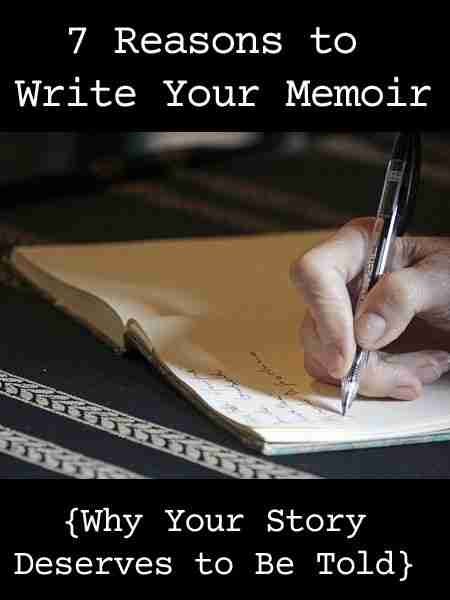 1. Because Your Story Might Help Someone
We often feel very alone when we face obstacles in life. We forget that somewhere in the world there is someone else going through a similar circumstance who can relate.
Maybe you are writing a memoir about having an illness, or going through a bad relationship, or surviving abuse, or even going on a journey to discover yourself. All these things someone else can relate to. And believe it or not – your story, your experience – can shed some hope to anyone who reads it. You can be an inspiration to others to overcome their own struggles through life.
2. Your Memories Won't Be Forgotten
Life is busy, sometimes chaotic. It can be easy to forget memories of the past. While some believe it is better to forget and move on, having record of something that happened in your life can be invaluable. It can pave the way for healing through writing, or it can help you to recall events that may have otherwise faded away.
3. You Will Improve as a Writer
Writing is a skill that takes a lot of practice and time to completely master. Even those who are considered good writers will continually look for ways to improve their witing.
When you write a memoir, you need to think about many different writing elements and how to structure your story. You will need to learn how to craft words in a way that resonate with your readers, reflect emotion, and convey the theme and mood of the story.
Telling your story is a great way to improve your writing skills and help you to gain a better understanding of what makes a great storyteller.
4. You Will Have a Greater Understanding of Yourself
There is probably no better form of self therapy than to sit down and try writing a memoir, especially about events that may have been traumatic or life altering for you.
As you write your story, you will likely experience many different feelings that will need to be understood and dealt with. If these feelings seem difficult for you to deal with, having a professional counselor can also help you with identifying and dealing with emotions that may arise while writing.
5. You Will Find and Develop Your Voice as a Writer
One of the things agents and publishers talk about a lot is "voice" – your unique tone of writing. Finding your voice isn't that hard when you're writing a memoir, because you're writing from your own personal viewpoint. What you write is automatically your own unique voice as long as you're writing from the heart.
6. You Will Free Yourself From the Inner Critic
When writing a memoir, the inner critic is at its peak. It tells you all sorts of things like "Nobody cares" to "People are going to be mad about this" to "You're not a writer".
Learning to tell that inner critic to shut up takes some practice and some time. One of the best ways to overcome the critic is to write a memoir. You can't change your life experiences, your story is yours – and the more you write, the more your critic will start to fade away.
7. A Memoir Reminds You of the Good Things in Life
Many memoirs are about a struggle or a disappointment or overcoming an obstacle. But somewhere in that story there are good times. You can write about them and relive those glorious moments right along with the bad. And when you've finished writing your memoir, you will start to notice many reasons why your life is worth living and celebrating.
---
Are you writing a memoir? What are some of the reasons why you are writing? Do you have any other reasons not listed here? Share your thoughts in the comments below!