The biggest challenge for most poets is finding a way to make an income doing the thing they love. Let's be realistic: most publishers are not begging for poetry submissions. Poetry, as much as it is loved and revered, simply is difficult to make money from.
However, thanks to many different internet opportunities, there are ways to make money from your poetry. In this post, we'll share some unusual yet very real methods of making money online from writing poetry.
Advertisement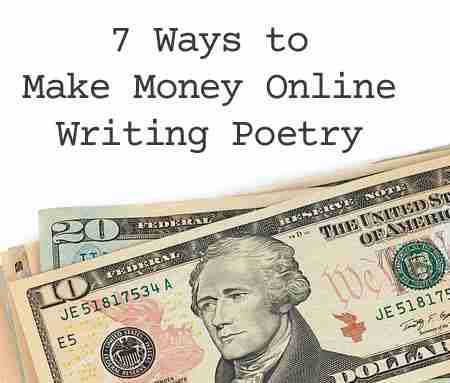 Here are 7 unique ways to make money online writing poetry:
1. Post a Listing to Fiverr: Fiverr is a website where people can hire you to do a task for $5. You can create a listing offering to write a custom poem for $5. Be sure to include some images and examples in your listing.
2. Create a Website of Your Poems: Having your own website of poetry is another method of making money online. I did this a few years ago and earned about $75/month from people reading my poems and clicking on advertisements. It takes a little bit of learning on how to set up a website and how to get traffic and advertisers, but this is a very viable option to do something you love while earning some side cash.
3. Sign up for Gather.com: Gather.com is a site that will pay you in gift cards for submitting your writing. You can write many poems and build up a following and relationship with others there who can help you to get more pageviews for your posts of poetry.
4. Yahoo! Voices: I have several articles and poems published at Yahoo Voices and am pleased to earn between $30-$40 each month. While not enough to pay your mortgage, it is a little bit that helps. The more you write and interact with the other writers there, the more you will succeed.  Update: Yahoo voices has closed it's doors. 🙁
5. Triond: I have not used Triond personally, but this is another site that will pay you for writing your poems. The more you write and the more you interact with other authors, the better your earnings will be.
6. Sell On-Demand Items With Your Poetry: Sites like CafePress.com and Zazzle.com let you upload images to sell on items like coffee mugs, t-shirts, notebooks, calendars and more. While you will need some sort of photo editing program to do this, you can turn your poems into items for sale.
7. Sell Poems on Etsy: Etsy is a store of everything handmade. You can create prints of your poems on paper in a frame or on a canvas and sell that way. You could also sell your own greeting cards. While this can take some patience and have some upfront costs, with the right marketing can be a good way to get your poems in the hands of others while getting paid for your work. Search their site for "poem" and "poetry" and you will get some great ideas for ways to sell your poems there!
---
Do you have some ideas for ways poets can make money online writing poetry? Share your thoughts in the comments section below!
Advertisement